Evil Eye, Jinn Possession, and Mental Health Issues
An Islamic Perspective, 1st Edition By G. Hussein Rassool (2018)
Routledge
Description
Evil Eye, Jinn Possession, and Mental Health Issues raises awareness of the cultural considerations, religion and spirituality involved in the assessment of Muslim patients with mental health problems. The belief that Jinn spirits can cause mental illness in humans through affliction or possession is widely accepted among Muslims, meaning this belief is a crucial, but frequently overlooked, aspect of mental health problems with Muslim patients in psychiatric care. This book explores the nature of such beliefs, their relationship to mental health and the reasons for their importance in clinical practice.
The book argues that it is vital to consider mental disorders as a multifactorial affair, in which spiritual, social, psychological and physical factors may all play a role. It suggests differential diagnostic skills may have an important part to play in offering help to those who believe their problems are caused by possession, and provides accessible literature on clinical issues and practice, interventions, management and evidence-based practice to help health workers achieve a better understanding of Muslim beliefs about possession and how to work with patients that hold such beliefs.
Evil Eye, Jinn Possession, and Mental Health Issues is an essential manual for mental health professionals, social workers and psychologists. It should also be of interest to academics and students in the healthcare sciences.
Click Here to Purchase
Islamic Counselling
An Introduction to theory and practice, 1st Edition
By G. Hussein Rassool (2016)
Routledge
Description
Islamic counselling is a form of counselling which incorporates spirituality into the therapeutic process. Until now there has been little material available on the subject with no one agreed definition of Islamic counselling and what it involves. There has also been a rapidly growing population of Muslims in Western societies with a corresponding rise in need of psychological and counselling services. Islamic Counselling: An Introduction to theory and practice presents a basic understanding of Islamic counselling for counsellors and Islamic counsellors, and provides an understanding of counselling approaches congruent with Islamic beliefs and practices from a faith-based perspective.
The book is designed as an introduction for counsellors, its goal is to inform the reader about how the diverse roles of the Islamic counsellor fit together in a comprehensive way and to provide the guidelines that can be potentially integrated into a theoretical framework for use. The book is divided into two parts. Section one: Context and Background, and Section two: Assessment, Models and Intervention Strategies.
Islamic Counselling encompasses both current theory, research and an awareness of the practice implications in delivering appropriate and effective counselling interventions with Muslim clients. It will be essential reading for both professionals and students alike.
Click Here to Purchase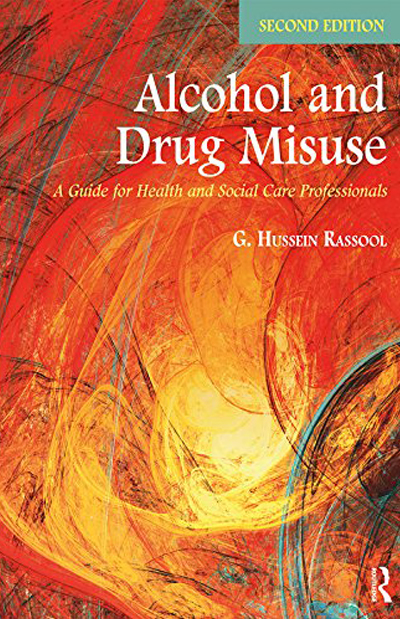 Alcohol and Drug Misuse
A Guide for Health and Social Care Professionals, 2nd Edition
By G. Hussein Rassool (2018)
Routledge
Description
Written by an experienced academic author, lecturer and practitioner, this comprehensive textbook provides an introduction to alcohol and drug misuse. It presents:
the context of alcohol and drug misuse, and the nature and theories of addiction, including a historical overview and policy initiatives in contemporary society
an overview of the problems associated with psychoactive substances and their impact on groups such as culturally and linguistically diverse communities, young people, women, older people and the homeless
an understanding of the generic role responses to substance misuse in a variety of different settings and contexts, including primary care, the community and hospitals
a framework for assessment, care planning, harm reduction approaches, dealing with overdose, intoxication and withdrawals, and psychological and pharmacological interventions
an accessible and skills-oriented approach to assist students and practitioners in dealing with alcohol and drug misuse.
This new edition is fully updated and includes new material on: evidence-based pharmacological interventions; recent global strategies in alcohol and drug; dual diagnosis and women; shisha smoking; and current statistics on prevalence of alcohol and drug misuse
Alcohol and Drug Misuse takes into account current policy and practice for substance use and misuse and includes a range of pedagogical features to enhance learning. It is essential reading for nursing, health and social work students taking substance misuse modules, as well as related CPD courses for health and social care professionals.
Click Here to Purchase
Understanding Addiction Behaviours: Theoretical and Clinical Practice in Health and Social Care
G.Hussein Rassool (2011).
Basingstoke, Hampshire: Palgrave McMillan.
Description
Understanding addiction has never been more important, as many professionals, from counsellors and nurses, to social workers and health psychologists, encounter addictive behaviour on a daily basis. Looking at addiction in all of its forms, this multi-disciplinary book provides a comprehensive introduction to the substances and the activities which can lead to excessive and addictive behaviour. It discusses pharmacological addictions, including both legal and illegal substances. It also covers nonpharmacological dependencies (such as internet addiction, eating disorders, gambling and sexual addiction) which, despite their prevalence, are often absent from the literature on addiction.
Drawing on the field's broad evidence base, the book features:
coverage of eleven types of addictive substances and activities, outlining signs, symptoms, adverse consequences and assessment and intervention strategies for each;
a range of engaging reflective activities and case studies to link theoretical discussion directly to practice;
analysis of the broader context of addiction, including dual diagnosis and harm reduction, and issues relating to diversity and service provision.
Offering a rigorous introduction to the full spectrum of addictive behaviour, this book is essential reading for anyone seeking to understand the nature of addiction for contemporary practice.
Click Here to Purchase
Cultural Competence in Caring for Muslim Patients.
G.Hussein Rassool (2014)
Basingstoke, Hampshire: Palgrave McMillan.
Description
To meet the care needs of today's diverse patient community, healthcare professionals must learn to care in environments comprising different worldviews, communication styles and expectations. To meet this challenge, it is essential that they operate from a solid foundation of knowledge, based on high standards for cultural competence in nursing practice. Cultural Competence in Caring for Muslim Patients is designed for nurses and allied healthcare professionals. It offers a deeper insight into ways in which the Islamic faith is intertwined with patient care, and explores approaches with which to effectively address the varying healthcare requirements of a growing and diverse Muslim community. Following a clear and accessible format, the book discusses key issues including:• The identity and religious beliefs of Muslims• The ethical dimension in caring• Understanding the Muslim family system• Health considerations during fasting and pilgrimage (Hajj) What's more, case studies, activities and discussion questions throughout actively support learning and reflective practices. This insightful guide will prove a valuable asset for any nurse or healthcare professional looking to develop their understanding of how to deliver culturally compassionate and congruent care.
Click Here to Purchase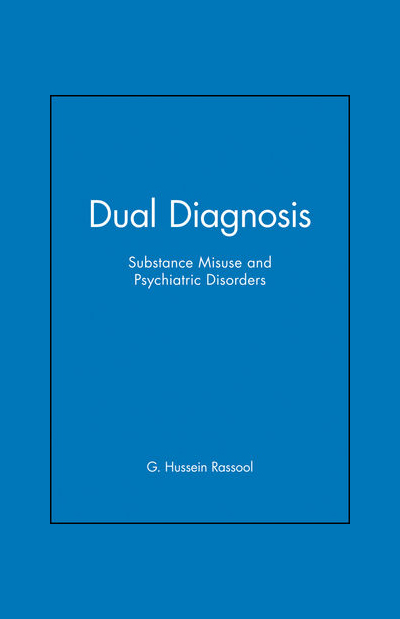 Dual Diagnosis: Substance Misuse and Psychiatric Disorders
G. Hussein Rassool (Editor) (2001).
Oxford: Wiley-Blackwell.
Synopsis
Dual diagnosis is the concurrenct existence of substance misuse and psychiatric disorders in an individual. There has been an increase in the number of people being dual diagnosed and this impacts on psychiatry services in primary care and general hospital settings. This book will provide practitioners with a comprehensive text on the contemporary issues of working with dual diagnosis patients from both clinical and theoretical perspectives.
Click Here to Purchase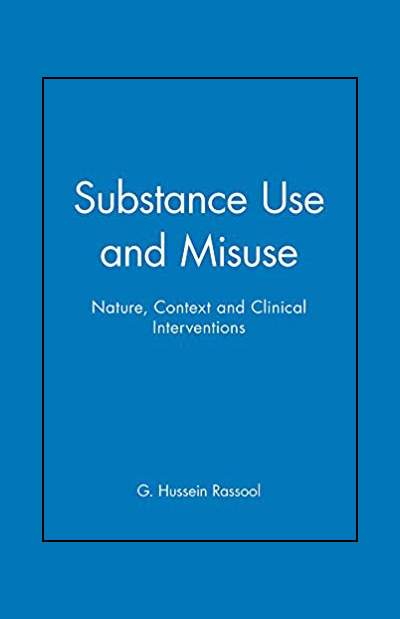 Substance Use and Misuse. Nature, Contexts and Clinical Interventions.
G.Hussein Rassool (1998).
Oxford: Blackwell Science.
Synopsis
This comprehensive text provides essential information on substance misuse in both the acute and community settings. It aims to assist student and practising nurses, and health care practitioners, to understand the extent and nature of substance misuse, and the knowledge and skills required in its management to provide effective care. The book looks at preventative health education, early recognition and harm reduction. Psychoactive drugs such as nicotine and alcohol are considered. The first part of the book puts the problems encountered into context; the following section concentrates on the particular problems faced in acute and community settings and the clinical care required to manage the specific addiction. The last section looks at contemporary issues in addiction management.
Click Here to Purchase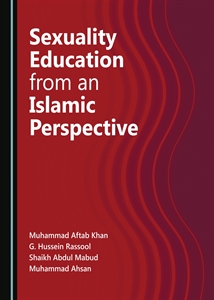 SEXUALITY EDUCATION FROM AN ISLAMIC PERSPECTIVE
BY MUHAMMAD AFTAB KHAN, G. HUSSEIN RASSOOL, SHAIKH ABDUL MABUD, MUHAMMAD AHSAN | 2020-04-01
Description
We live in an over-sexualised culture where sex and sexuality have become part of the public domain. This sexual revolution challenges Judeo-Christian and Islamic norms and boundaries. As such, sexuality education is a sensitive and extremely important issue, and its current implementation in schools has raised public concerns. This book explores the subject, contextualising it within the matrix of Islamic beliefs and practices. Islam binds sexuality and sexual education to a moral grid with rights and obligations, justice and equity. There is a dominant discourse and stereotype around 'Islamic sexuality', which presents sex and sexuality as the biggest taboo, fraught with fear and seldom discussed. This book dispels such myths and misconceptions, providing an overview of sexuality education in the modern world and the need for such education.