International Open University
> IOU Prison Initiative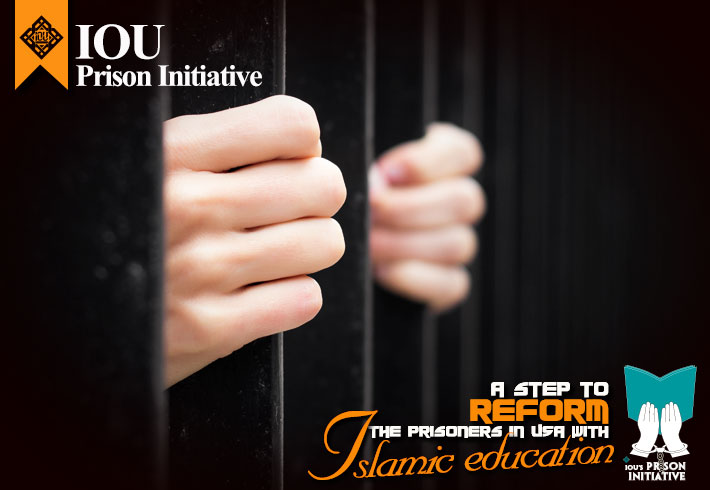 IOU Prison Initiative
The International Open University has embarked upon a new and exciting challenge to provide authentic Islamic Education to the incarcerated Muslim population. The program has been rolled out to inmates across the USA, and will be extended to include various parts of the world. The incarcerated will have the choice to study our Islamic Studies Diploma or Undergraduate course of Islamic and Arabic studies. By doing this we hope to aid their rehabilitation process and assist in preparing them for a successful and productive life after prison.
With an increase in terrorism and a rise in groups falsely attributing themselves to Islam – there is a need to protect Muslims from such threats, and educate the masses with the true, peaceful, and authentic teachings of Islam.
The lack of Muslim support for the incarcerated makes it difficult for them to receive the correct guidance they are often seeking. The International Open University aims to overcome the many challenges faced by inmates who are in search of the truth, and support them with the following:
A structured program taking the students through level one to six

Hard copies of the study materials used in the courses, such as books, CD's, DVD's (where internet access is not allowed)

Group study working together to help motivate one another

A Muslim Education Coordinator to run the program in conjunction with the Facility Chaplin/Administration

Providing the IOU program's to the inmates FREE of charge
To date we have more than 3500 inmates registered and more than 1500 are enrolled and taking the courses in forty-five (45) states across the United States. 500 inmates have completed the Level 1 courses successfully and have received their certificates of completion. More continue to register or inquire about the initiative daily. Dr. Bilal has set a goal of including the undergraduate course of study in the Prisons as soon as possible.
Despite making the courses available to the incarcerated at no cost to them, it does however cost us to facilitate this program for them since hard copies of study materials need to be provided. We have only been able to achieve this with the help of Allah, and with generous donations from the Muslim community. If you would like to support this noble cause, and receive the ongoing reward of 'sadaqa jaariya' then please click the link below.
We ask Allah to help this program prosper and to continue to guide hearts towards true Islam.
If you would like to assist in the implementation of the IOU Prison Initiative or have it implemented at a particular correctional facility, please contact Mutahhir Sabree at director.usa@iou.edu.gm or call 803-556-9500. If you would like to donate, please visit this page.