Purpose
The primary objective of the English for Academic Purposes Placement test (EAPP) is to assess the English language proficiency of applicants seeking admission to IOU's degree programs. The EAPP serves the purpose of ensuring that only those students possessing an adequate level of English proficiency are admitted to these programs.
This initiative is designed to offer our students the highest level of support before they commence their studies, guaranteeing that their English proficiency aligns with the demands of their chosen degree programs, thus enabling them to fully engage and thrive in their academic pursuits.
English Language Admission Requirement
For academic English, a CEFR level of C2 is expected. However, a level of C1 is acceptable for entry, with the understanding that further development of academic English literacy will be necessary during studies.
Please refer to the CEFR, IELTS and TOEFL level and score representation below.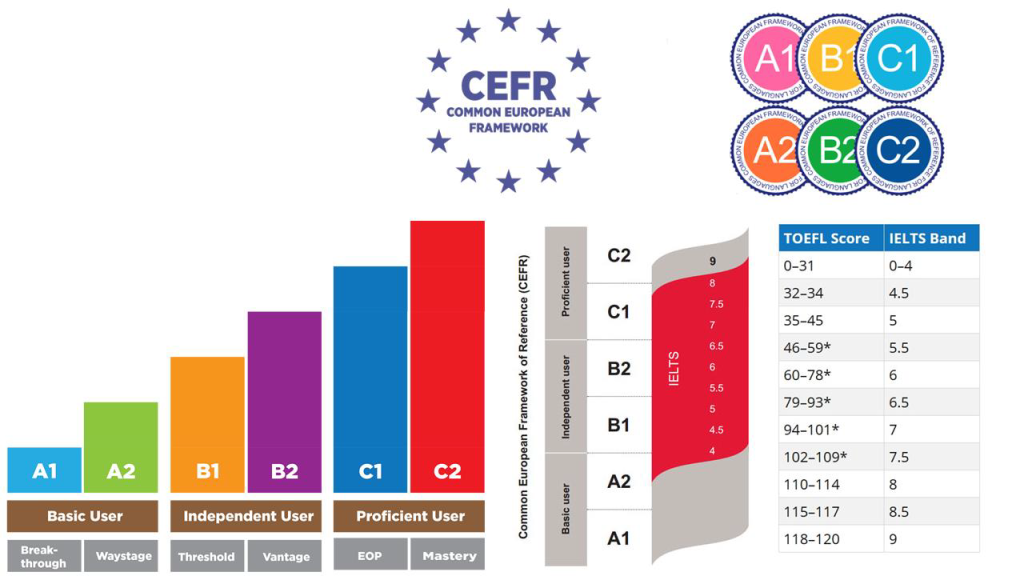 Test Registration
Students are not required to register for the test independently. Instead, the Registrar's Office will direct students to take the test if it becomes necessary. Please review the following scenarios in which students are exempt from the EAPP test.
Exemption
The following categories of students will be exempt from taking the EPT:
                     1. Native speakers of English (from countries where English is an official language – from the list below)
                     AND/OR
                     2. Completed a high school via the medium of English in one of the countries listed below.
                     AND/OR
                     3. Possess a valid IELTS or TOEFL report with the minimum score as shown below.
Minimum Score for Exemption
IELTS Band
6.5
TOEFL Score
79
| Africa | America | Oceania | Asia | Europe |
| --- | --- | --- | --- | --- |
| Botswana | Antigua and Barbuda | Australia | Bangladesh | Ireland |
| Cameroon | The Bahamas | Fiji | India | Malta |
| Ethiopia | Barbados | Kiribati | Indonesia | United Kingdom |
| Eritrea | Belize | Marshall Islands | Malaysia |   |
| Gambia | Canada | Federated States of Micronesia | Pakistan |   |
| Ghana | Dominica | New Zealand | Singapore |   |
| Lesotho | Guyana | Palau | Sri Lanka |   |
| Liberia | Jamaica | Papua New Guinea |   |   |
| Malawi | Saint Kitts and Nevis | Samoa |   |   |
| Mauritius | Saint Lucia | Solomon Islands |   |   |
| Namibia | Saint Vincent and the Grenadines | Tonga |   |   |
| Nigeria | Trinidad and Tobago | Tuvalu – Vanuatu |   |   |
| Rwanda | United States |   |   |   |
| Seychelles |   |   |   |   |
| Sierra Leone |   |   |   |   |
| South Africa |   |   |   |   |
| South Sudan |   |   |   |   |
| Sudan |   |   |   |   |
| Swaziland |   |   |   |   |
| Tanzania |   |   |   |   |
| Uganda |   |   |   |   |
| Zambia |   |   |   |   |
| Zimbabwe |   |   |   |   |
Applicants from other countries can submit their IELTS/TOEFL/CEFR results for review of their level.
Note: Applicants may be asked to write a placement test as well (even if the results are submitted).
Testing Rules and Regulations
Format: MCQ questions (grammar, lexis + reading comprehension)
Number of questions: 50
Maximum test time: 65 minutes
Attempts: 1
Fee: USD 20
Standard language level framework applied: CEFR
Minimum English proficiency level for university entrance: C1
Testing Policies and Guidelines
Closed-Book Policy: This is a closed-book test, meaning you are not allowed to refer to any study materials, textbooks, or notes during the test.
No External Help Allowed: Test-takers are strictly prohibited from seeking assistance from others, including using online dictionaries, translation tools, or any form of external help.
Answer Confidently: You should only answer the questions that you are sure about to the best of your knowledge. Guessing is not encouraged. It's important to provide your most accurate assessment of your English language skills.
Test Duration: Be mindful of the maximum test time (e.g., 65 minutes) and manage your time effectively to complete all questions within the allotted time frame.
Honesty and Integrity: Maintain honesty and integrity throughout the test-taking process. Any form of academic dishonesty may lead to the invalidation of test results and potential academic consequences.
Test Environment: Ensure you are in a quiet and distraction-free environment to concentrate fully during the test.
Review and Confirm: Before submitting your test, review your answers if time allows. Once you submit, you may not revisit or change your responses.
Exam Dates and Location
The English for Academic Purposes Placement Test will be conducted entirely online.
Fees
The English for Academic Purposes Placement Test is subject to a USD 20 standard fee. 
Note: The fee is both non-refundable and non-transferable in all circumstances. Each student is granted only one opportunity to take the test. If a student misses the test for the designated semester without a valid reason, they will be required to re-pay the fees for the subsequent semester.
Scoring and Results
| | | |
| --- | --- | --- |
| Score | Level | Course Placement |
| 0-10% | below B1 | Not eligible for admission to degree programs. |
| 11-40% | B1 | Recommended to enroll in IOU's English Preparatory Course |
| 41-70% | B2 | Recommended to enroll in IOU's English Support Course |
| 71-100% | C1 or Above | Eligible for direct admission to degree programs |
Applicants with English language skills below the required standards (lower than C1) will be directed to enrol in a relevant short course, based on their proficiency level:
             A) English Support Course – for students with a B2 CEFR level.
             B) English Preparatory Programme – for students with a B1 CEFR level.
Note: Both courses will be available starting in March 2024. In sha Allah.
Privacy and Data Security
The personal information and test results collected during this assessment will be handled in accordance with International Open University's privacy policies and will not be shared with unauthorized parties.
Legal Information
By participating in this online placement test, students affirm that they will respond to the test questions to the best of their knowledge and abilities, refraining from any form of dishonesty during the test-taking process.
The University expects all students to uphold the principles of academic integrity while taking this test. Any attempt to subvert these principles may result in the invalidation of test results and possible academic consequences.