IOU Awareness Month
> Help increase IOU's presence in your area
IOU Awareness Month
Many people in our communities are not aware of the presence of the International Open University (IOU), where they can easily benefit from authentic Islamic knowledge from the comfort of their home. The month of awareness was instituted to do just that – increase the knowledge of IOU's existence and activities in their area.
Prophet Muhammad (peace be upon him) said, "Seeking knowledge is an obligation on every Muslim." [Reported by Sunan Ibn Mājah, 224] He also encouraged us that whoever guides someone to goodness will have a reward like the one who did it (the act of goodness). So not only does obtaining knowledge gain us rewards, we get extra sadaqah jaariyah (continuous rewards) for the ones who seek knowledge because of our guidance!
IOU has two awareness drives each year – one per semester which starts right after the final exams and ends during the first month of the upcoming semester. This month is crucial for the promotional activities of the university, and it is also one of the major events in which the Student Committees participate.
We Make Getting Awareness Fun!
Who said learning had to be boring? The awareness month is packed with great competitions carried out for the sake and pleasure of Allah.
We stage many fun events for everyone who is willing to take part. The top 5 winning teams from the Student Committees will receive tokens of appreciation from IOU, as well as certificates of recognition signed by Dr. Bilal Philips and recognition on IOU social media platforms!
Who Can Participate
Student Committees will compete with one another in different activities, however, if you are not part of a Student Committee, you can also participate individually. Both students and non-students of IOU can volunteer.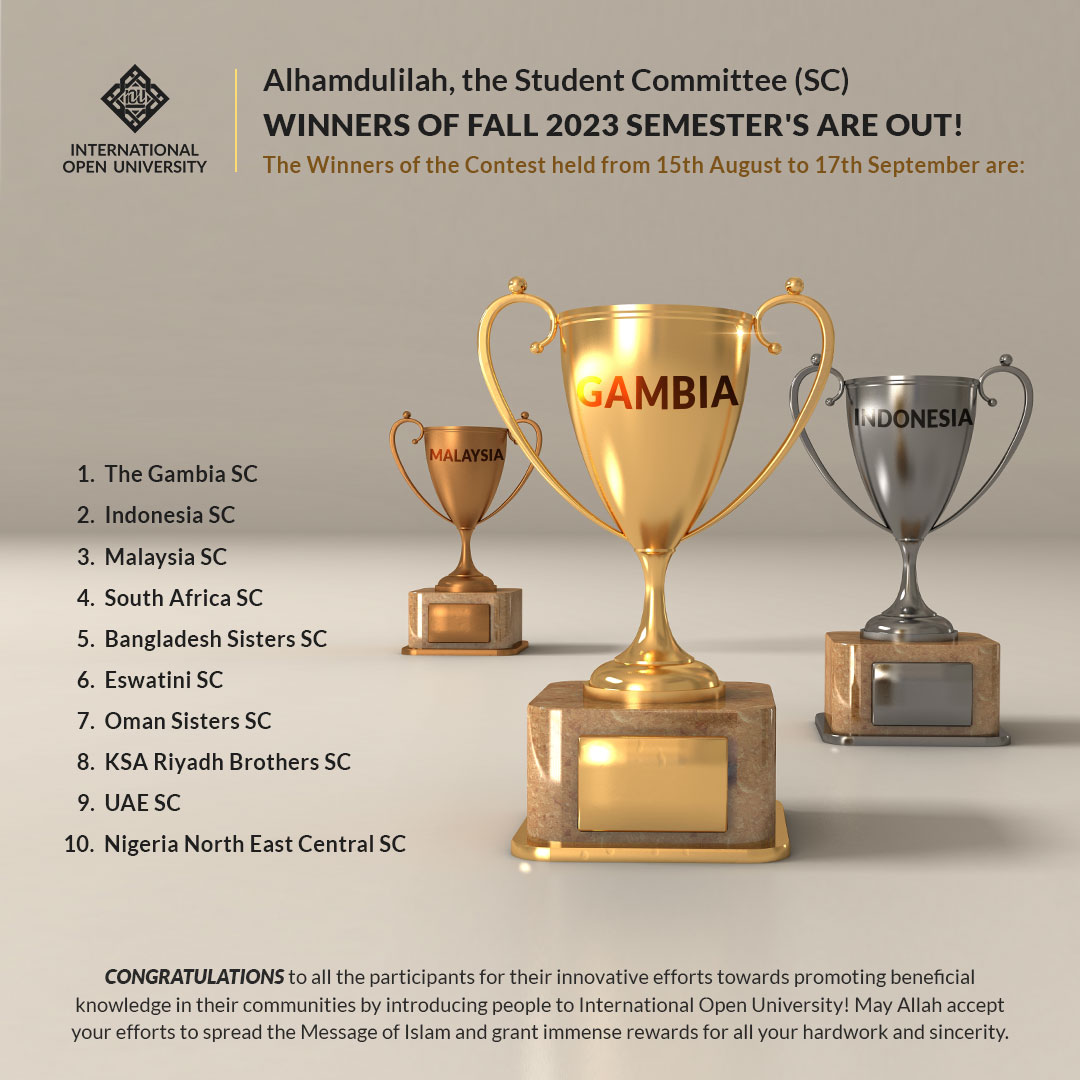 How can you participate in Awareness Month?
If you belong to a region that has an established Student Committee, you can contact the chairperson through this list. If you belong to a region that does not have an established Student Committee yet, you can either volunteer to start up a Student Committee for your region with others or you can participate in our Awareness Month Challenge.
The Awareness Month is not limited to just one event or a one-day event or activity. It can be one event, a series of events, online promotion campaigns, or daily awareness campaigns. You can do as many or as little activities as you are able. It's all based on your personal capabilities. There is no minimum or a maximum limit. Print material (brochures, flyers, posters, banners), presentations and videos can be found here.
Here is a list of possible activities that you can engage in:
Daily/Weekly awareness campaigns on WhatsApp groups, Facebook groups, Telegram groups, etc.
Sharing digital flyers on social media platforms.
Printing flyers and brochures for advertising in masjids, announcement boards, IOU Exam centers, and community centers.
Distributing flyers and brochures in the neighborhood or to Islamic organizations and schools.
Broadcasting about IOU through TV, radio or newspaper
Collaborating with bloggers, etc.
Don't forget about telling your family, friends and colleagues. Introduce them all to IOU and encourage them to sign up!
Setting up IOU booths in Jummahs, fairs, exhibitions, and conferences.
Arranging IOU info sessions in your local community, offline or online
Conducting IOU promotions in Halaqas, Islamic schools, and Islamic organizations.
Making an announcement about IOU and its open registration during Jummah.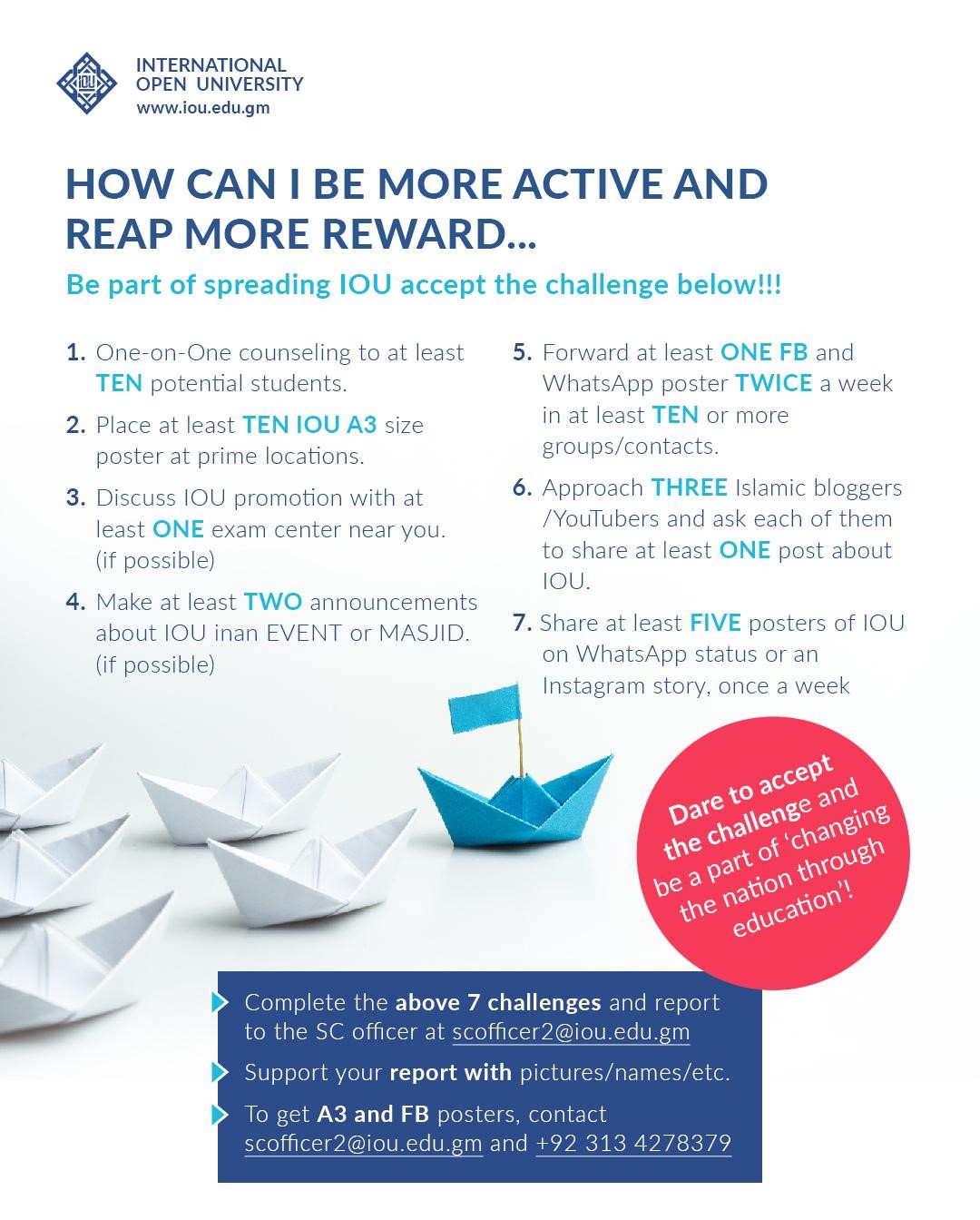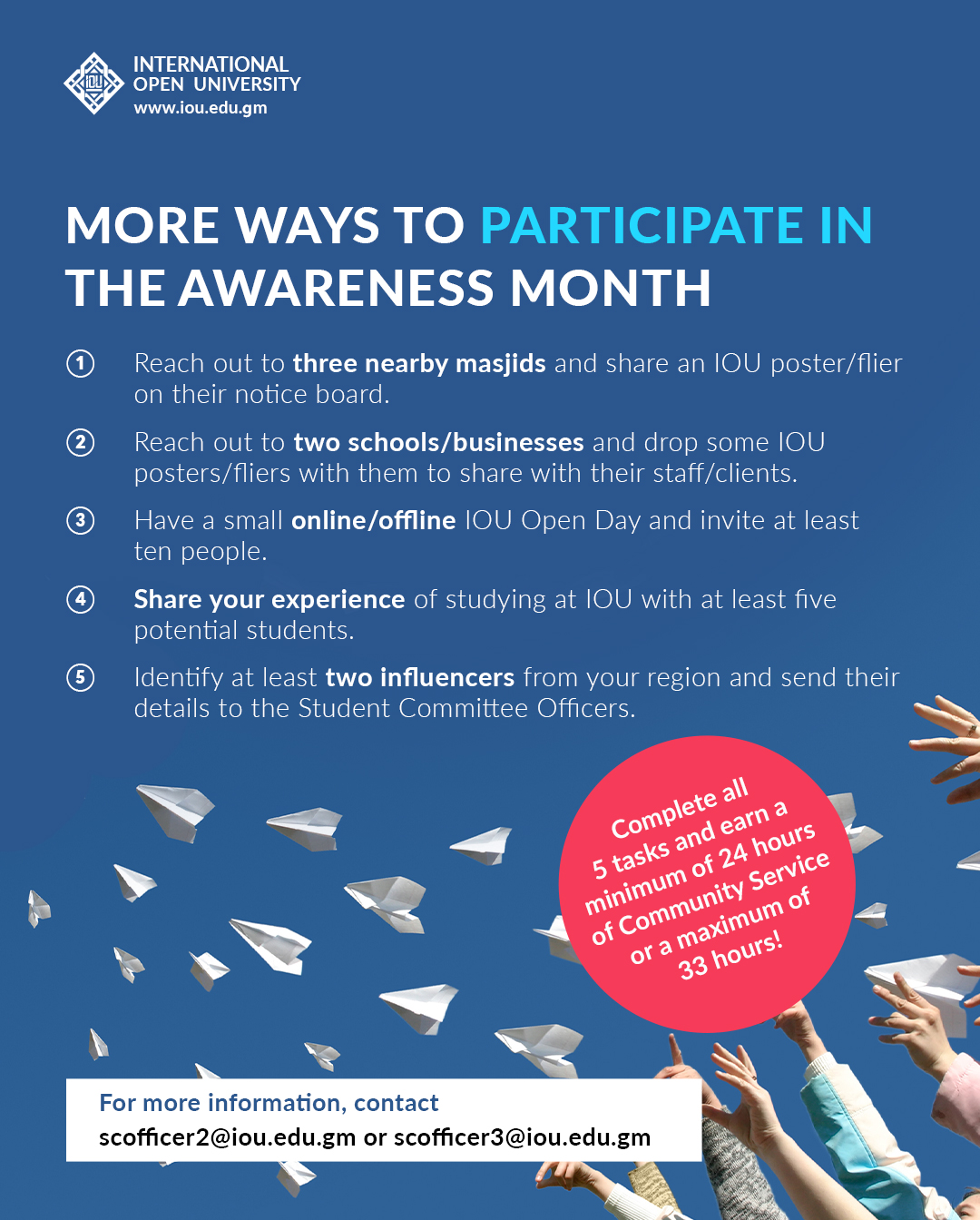 What can you achieve by participating in Awareness Month?
As a student, you can clear your community service hours by engaging in as many activities as possible. Community service is one of the important criteria that students have to fulfill in order to graduate and receive their certificate. There is no better way to get this done than creating awareness of IOU in your local communities, while also reaping rewards for your hereafter! Insha Allah, these can be ways of earning sadaqah jariyah for any student or non-student who would like to volunteer during the Awareness Month as well.
Awareness Month is also an excellent opportunity to refine your skills and gain new competencies such as teamwork, effective communication, organizational skills, multitasking, time management and leadership. By volunteering, you gain new experiences and train your brain to perform a wide range of challenges which will help you navigate your daily life as well.
Click here to download detailed PDF.
A Few Reminders on the Benefits of Doing Good Deeds
Calling people to Allah is a virtuous deed that brings great reward. The Prophet (peace and blessings of Allah be upon him) said: "Whoever calls others to guidance will have a reward like the rewards of those who follow him, without that detracting from their reward in any way. And whoever calls others to misguidance will have a burden of sin like the burden of those who follow him, without that detracting from their burden in any way." (Narrated by Muslim, 2674)
"And let there be [arising] from you a nation inviting to [all that is] good, enjoining what is right and forbidding what is wrong, and those will be the successful" (Quran 3:104)
Abu Huraira (RadhiAllahu 'anhu) reported: Allah's Messenger ﷺ as saying: When a man dies, his acts come to an end, but three, recurring charity or knowledge (by which people) benefit, or a pious child, who prays for him (for the deceased). [Sahih Muslim – Book 13 – Hadith 4005]
Student Committee Winners of Past Awareness Months
| | | | | | | | | | | |
| --- | --- | --- | --- | --- | --- | --- | --- | --- | --- | --- |
|   | 1ST | 2ND | 3RD | 4TH | 5TH | 6TH | 7TH | 8TH | 9TH | 10TH |
| Spring 2020 | Indonesia | Canada | The Gambia | – | – | – | – | – | – | – |
| Fall 2020 | Indonesia | UAE | Philippines | – | – | – | – | – | – | – |
| Spring 2021 | Indonesia | Germany | Oman Sisters | South Africa Sisters | Zimbabwe Brothers | – | – | – | – | – |
| Fall 2021 | The Gambia | Oman Sisters | Indonesia | Eswatini | KSA Eastern Brothers | – | – | – | – | – |
| Spring 2022 | The Gambia | Philippines | Ghana – Northern Zone | Indonesia | KSA Eastern Brothers | – | – | – | – | – |
| Fall 2022 | KSA Riyadh Brothers | Ghana Middle Zone | The Gambia | Indonesia | Ghana Western Zone | Nigeria North West Sisters | KSA Eastern Brothers | UAE | USA Virginia | Nigeria North East Central |
| Spring 2023 | The Gambia | Indonesia | Oman Sisters | KSA Riyadh Brothers | Bangladesh Sisters | Eswatini | Tanzania | UAE | Malaysia | South Africa Brothers |
| Fall 2023 | The Gambia | Indonesia | Malaysia | South Africa | Bangladesh Sisters | Eswatini | Oman Sisters | KSA Riyadh Brothers | UAE | Nigeria North East Central |
See what Student Committees have been doing during the past Awareness Months:
Student Committee Organized Live Events