International Open University
> News
Doctorate Degree Honoris Causa conferred upon His Excellency, President Adama Barrow
2023-04-23 18:36:04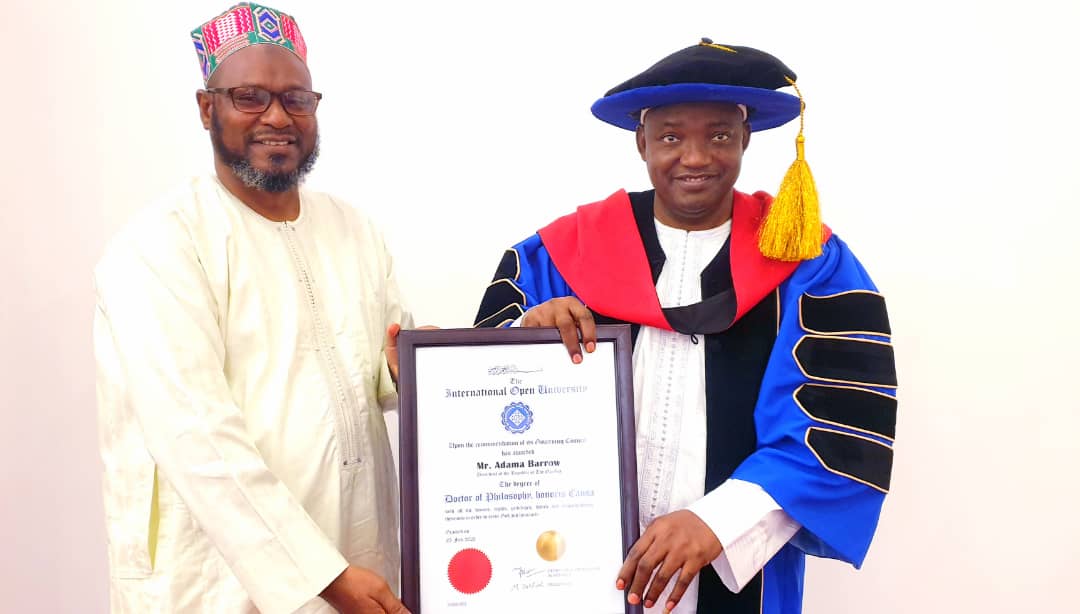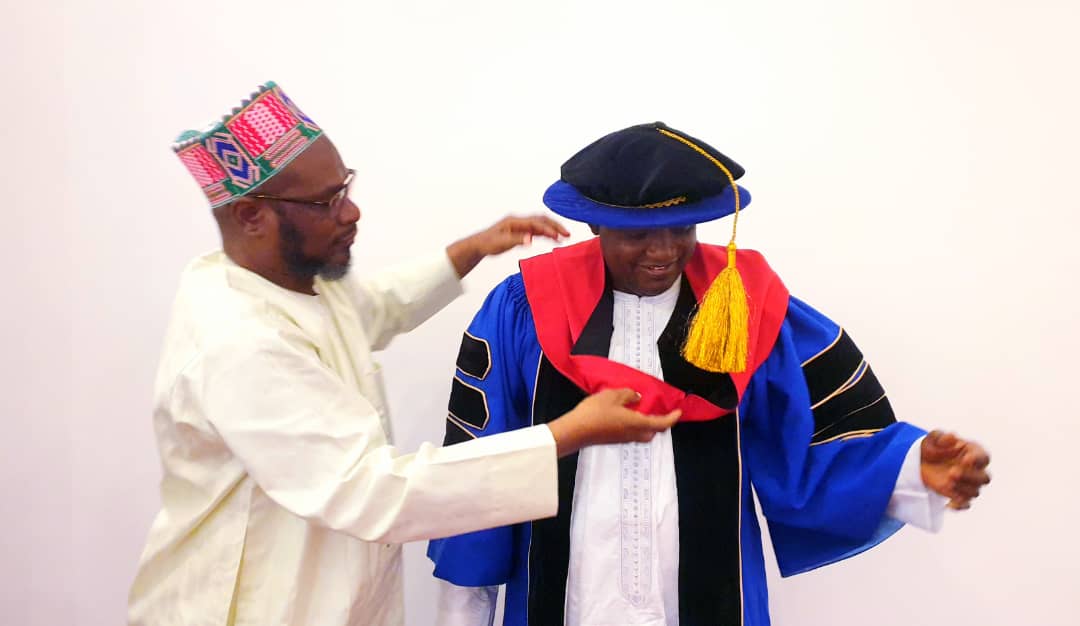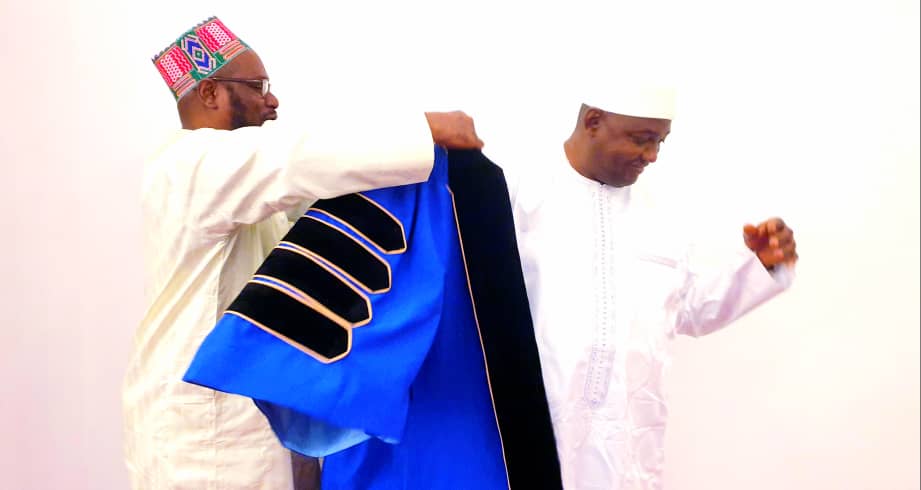 Pic: IOU Vice-Chancellor Dr Cherno Omar Barry presents the conferred Doctorate Degree Honoris Causa to His Excellency, President Adama Barrow.
The President of the Republic of the Gambia, His Excellency Adama Barrow, was
robed on Thursday, 20 April 2023, in a solemn ceremony held at the State House
in the President's office by Professor Cherno Omar Barry, the Vice-Chancellor of
the International Open University.
It may be recalled that at the ninth IOU Convocation ceremony held on 28 February, 2023,
His Excellency President Adama Barrow was conferred the award of a Doctorate Degree Honoris Causa by the International Open University in recognition of his distinguished services for the promotion of education, particularly in decentralizing higher education and
TVET. Unfortunately, President Barrow could not attend the ceremony but was well-represented by the Minister of Public Service, Honorable Babucarr Bouy.
The IOU recognizes President Adama Barrow's policies that have resulted in
tremendous strides in the education sector in The Gambia, from increasing access
to secondary education to increasing the budget to accommodate marginalized
students, particularly in rural Gambia.
President Barrow introduced various initiatives, including launching the National
Islamic Education Strategy in July 2019. The strategy focuses on providing access
to quality Quranic and Islamic education to all Gambians, regardless of their
gender, social background, or income level. The policies aim to improve the
management of madrassas, build up the skills of teachers and administrators, and
ensure that all madrassas have access to adequate resources, such as textbooks
and other learning tools. President Barrow has also increased government
funding for madrassas by allocating funds to help build new schools, pay teachers'
salaries, and give textbooks and other school supplies.
The International Open University is the first of its kind in The Gambia, as it is the
only university that provides online education to Gambian citizens and residents
around the country. In response to President Barrow's vision for every Gambian
eligible for university education, especially the underprivileged, being accorded
the opportunity to access quality higher education, the Founder-Chancellor of the International Open University, Prof Dr Bilal Philips, recently offered 1,000
scholarships dedicated to His Excellency.
The Doctor of Philosophy Honoris Causa awarded by the IOU commemorates
President Barrow's commitment to education heralding a new wave of well-
educated, highly skilled workers that will help usher in a new Gambia that is
prosperous and progressive.
Following the brief robing ceremony, Professor Barry emphasized the need to
partner with the government to ensure every deserving Gambian gets a chance to
post-secondary education in an affordable, accessible and flexible way. He is
convinced that the IOU has a significant role in that regard.