International Open University
> News
4th IOUCRIS, 2023: Call for Papers
2023-06-09 02:46:17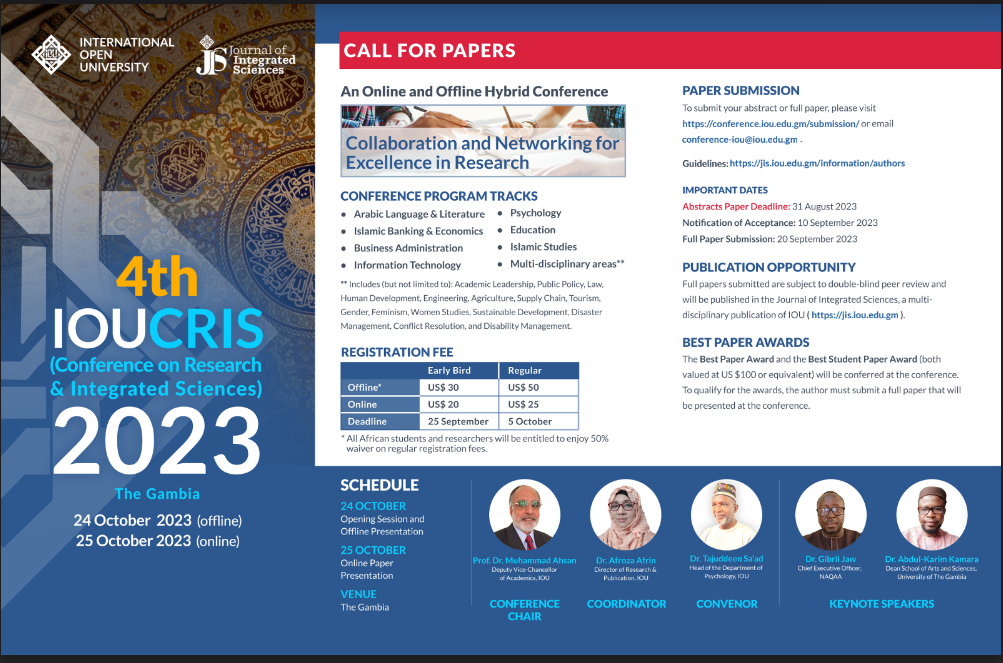 CONFERENCE PROGRAM TRACKS
Arabic Language & Literature • Psychology
Islamic Banking & Economics • Education
Business Administration • Islamic Studies
Information Technology • Multi-disciplinary areas**
** Includes (but not limited to): Academic Leadership, Public Policy, Law, Human Development, Engineering, Agriculture, Supply Chain, Tourism, Gender, Feminism, Women Studies, Sustainable Development, Disaster Management, Conflict Resolution, and Disability Management.
REGISTRATION FEE
US$20

US$25

25 September

5 October
* All African students and researchers will be entitled to enjoy 50% waiver on regular registration fees.
PAPER SUBMISSION
To submit your abstract or full paper, please visit https://conference.iou.edu.gm/submission/ or email conference-iou@iou.edu.gm
Guidelines:https://jis.iou.edu.gm/information/authors
IMPORTANT DATES
Abstracts Paper Deadline: 31 August 2023
Notification of Acceptance: 10 September 2023
Full Paper Submission: 20 September 2023
PUBLICATION OPPORTUNITY
Full papers submitted are subject to double-blind peer review and will be published in the Journal of Integrated Sciences, a multi-disciplinary publication of IOU (https://jis.iou.edu.gm).
BEST PAPER AWARDS
The Best Paper Award and the Best Student Paper Award (both valued at US $100 or equivalent) will be conferred at the conference. To qualify for the awards, the author must submit a full paper that will be presented at the conference.